Audiology ADvantage Facebook Advertising Course for Beginners
The Hearing Lab Store is excited to introduce a course in Audiology Facebook Advertising: Audiology ADvantage - a step by step guide designed purely for independent hearing care practices.
If there's one skill you need to learn right now to get more leads and sales for your business, it's the Audiology ADvantage.
Even if marketing and advertising isn't your bag, you're going to need to know the theory, because you'll more than likely need to find someone else to do it for you. You can't ignore this any longer. Your potential customers and their families are on Facebook - all the time. 38 million UK residents have an account and most of them use the network daily. 99% of all online marketing spend is on Google & Facebook.
If you want your Audiology business to thrive in the years ahead then Facebook advertising is something you're going to need to know about; at least the basics.
We know there are plenty of businesses out there doing just fine without advertising on Facebook or maybe without any advertising at all. However, we also know that by using our own in-house developed 'funnel strategy', we know exactly how many leads and sales we can expect for our own hearing centre every month.
Like it or not, on Facebook and Google, it has become a 'pay to play' game for businesses. SEO isn't completely dead, but it's time consuming and who has that much time? Shouldn't we be doing both anyway? We only have so much time so SEO success is limited, but we can always pay for more advertising.
There are many self-proclaimed social media "experts and gurus" out there who you can waste your time and money with. However, our course deals solely with audiology businesses in mind. We have been online marketing since 2013 and building Facebook marketing funnels since June 2016 with the single aim of getting patients in to our practices. We have spent thousands of pounds and hours; including trips to the US to get the best training, advice and tips from the real experts.
This 'new to audiology' marketing practice is something we've had to individually tailor ourselves because many of the standard marketing principles just didn't fit our niche industry. We firmly believe that we have the most developed strategy on the planet for hearing care practices. Audiology ADvantage will show you what's working with Facebook ads for Audiology and what isn't.
You Will Learn:
THEORY - Facebook advertising & funnel marketing theory

SET IT UP - The toolbox required (Foundations)

STRATEGY - How to plan an effective marketing campaign

LAUNCH - Actually launch a real-life event campaign from start to finish

MEASURE - Basics of split testing, measuring results & maximising results
"The course is a well structured introduction to a new more affordable way of advertising online. I set up a simple ad straight away for local hearing tests and was quite amazed at receiving 5 appointments booked in at a cost of less than £37. I'm keen to see how I can develop this as an independent as I've worked with Adwords for sometime and have become a bit disillusioned with the high costs. Facebook advertising allows me to target my audience better, and then re-target those who show an interest. My advice as an independent to other independents is get ahead and generate some cheap leads" John Lloyd RHAD, Crystal Hearing Ltd.
Sponsored (at time of writing) - this incentive may not be around for long
This means the beginners training course is effectively free. We are sponsored by a few generous manufacturers who would like you to advertise their products once you have the skills gained from the course. They will cover the first £300 in advertising spend on Facebook (conditions apply) to help you get your first Audiology ADvantage customers. In fact, we'll set this first ad up for you on the day.
The Facebook Group
You will have lifetime access to the Audiology Advantage Facebook group which is a members only space for those who have completed the course. Here, we'll share links to further training videos, cheat sheets and step by step guides. You'll also be able to ask questions amongst your peers and we'll have someone technical to help with your questions that don't get answered by other members (correctly). You can join the Facebook page now if you like (the Page is open to everyone, the Group is exclusive).
Our Story
The Hearing Lab started as one person working in an opticians and quickly grew to three locations. We decided to drop two locations to focus on Liverpool Hearing Centre and use it as a test centre for everything else we were planning to do. The Hearing Lab became our shell company and alongside Liverpool Hearing Centre, we developed an aural micro suction training course that has, and continues to train the majority of audiologists in the UK. We also train a significant number of NHS GPs and nurses.
We were successfully generating wax leads for ourselves online using a separate website so we decided to expand that to the people we were training and we now take around 2,500 wax removal calls every month distributed to over 250 clinics. This all came from skills developed in SEO and Google Adwords. We had to go on a number of excellent courses to learn it all – two of which were a week long, but it paid dividends – it's always worth taking time out of your business to invest in new skills.
We then went on to develop The Hearing Lab Store. We knew we were shrewd buyers of our own equipment and we could get better prices than we were currently being offered in the UK for the micro suction equipment. It was a micro industry we'd more or less started anyway so we thought we were in a good position to start selling the equipment too. It was at this point that we needed to learn how to use Google Shopping - more courses and many more hours on the phone to Google! But at the end of it we had The Hearing Lab Store.
For all aspects of our business we pay around 75% less per click and get higher results than your average Google or Facebook advertiser but we've had to work harder to maintain our conversions as the years have gone by. Therefore, for the last 12 months we have been testing Facebook ads and we have finally cracked the nut. It wasn't easy, but wow it was worth it! So much more cost effective.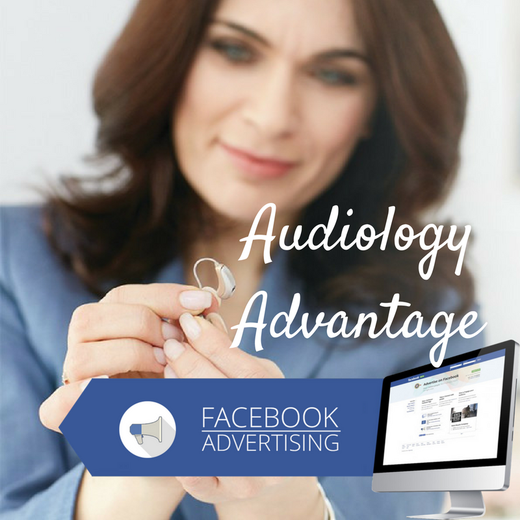 We are now partners with a US Facebook ads agency forming the Audiology ADvantage. We have been coaching them about UK audiology since May 2017 and they understand our industry perfectly. We'll be teaching basic funnels during our beginners course (everyone should at least do this), the intermediate course further explores measuring, split testing and optimising and the advanced course will include complex but high yielding funnels. These are the funnels that we use ourselves in the Audiology ADvantage Facebook ads agency and tested at Liverpool Hearing Centre. So if you don't want to learn it all yourself, we do have other options available and we're taking on clients now. Message me for an information pack.
We will personally invest over £60,000 in digital marketing this year and we have managed everything ourselves up until now. I imagine we'll spend double next year because we can more accurately predict the returns. We have learnt all we can about SEO, Adwords, Facebook ads, and email marketing since our conception in 2013. We have taken the opportunity to enlist some extra special talent with our new partners and we're confident we can deliver the best Facebook ads course and advertising for your business. Audiology ADvantage is designed specifically for Independent Hearing Care Practices. Please call us directly for information regarding becoming a client or if you're interested in attending the Audiology ADvantage for Beginners, you can view our calendar and book here.